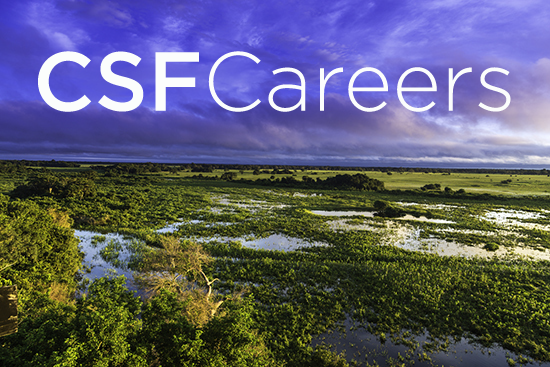 CSF currently has the following openings:
Executive Director
CSF is at a point in its evolution as an economics-based conservation organization to make a transition to a new level of organizational excellence and strategic impact. The Executive Director will be a person who has a keen desire to develop sustainable partnerships with nonprofits, corporations, foundations, public policy leaders and individual donors to advance CSF's economic conservation strategy. In addition, the Executive Director will work to continue to enhance the governance and leadership capabilities of Board.
In the role as Executive Director, this person will work with CSF's program teams to carry the organization's message to critical leaders at the international, national and state levels, in both the private and public sectors. The Executive Director needs to be a leader among leaders and must bring a genuine excitement and commitment about CSF's mission. The Executive Director must be an intellectually agile and engaging individual.
The broad objectives for the Executive Director are as follows:

To provide leadership in evolving and implementing CSF's organizational vision, mission and strategic priorities.


To support the development of a vibrant organizational future by continuing to cultivate, expand and make the best use of CSF's Board, volunteer leaders, staff and members.


To continue to expand the financial base of CSF, pursuing philanthropic funding sources and other creative sources of revenue for the organization.


To retain, attract and manage an international team of professional staff who possess the capacity to fulfill the organization's mission.


To expand the reach, influence and public recognition of CSF as a trusted economics-based conservation organization.
The Executive Director will be responsible for overseeing the day-to-day operations of CSF. The Executive Director will work closely with John Reid, founder and President, and other key staff to develop and implement the organization's vision and new strategic plan. This role requires extensive leadership, communication, and fundraising skills. This is an exciting opportunity for a dynamic professional with the ability to scale up an organization, expand its funding base, manage senior staff, and communicate CSF's vision and goals to external partners, conservation policy-makers and the public.
Professional Qualifications and Personal Attributes
The Executive Director should ideally possess the following professional qualifications and personal attributes:
Professional Qualifications:

A capacity to lead, inspire and mobilize people -- particularly leaders, volunteers, and other supporters -- in advancing the vision of a vibrant, economics-based conservation enterprise.


A management style that is goal oriented, but flexible; that respects the capabilities and independence of staff, but provides them with a clear sense of direction.


Demonstrated experience in developing and administering a comprehensive fundraising program including individual donor, corporate and foundation solicitation.


Experience building effective networks, partnerships, and/or coalitions.


Bachelor's degree required with an advanced degree strongly preferred.


Fluency in at least one language in addition to English (Spanish, Portuguese and Bahasa Indonesian preferred).


The highest level of personal and professional integrity and quality standards.


Strong work ethic and willingness to travel extensively, often for weekend and evening engagements.
Personal Attributes:

Passionate commitment to the values and mission of CSF and a demonstrated conservation ethic.


Ability to inspire trust, lead and facilitate with strong interpersonal skills and move from ideas to action.


A team builder and an individual committed to collaboration, and volunteerism.


A superb professional and personal presence.


Ability to think strategically, tactically and creatively.


Visionary, articulate, and diplomatic.
Compensation
Compensation for the Executive Director includes a competitive base salary that is commensurate with experience and an excellent package of employee and health benefits. The preferred location for the Executive Director is the San Francisco Bay Area.
How to Apply
Interested candidates should email a cover letter explaining how their skills and background fit this position and a resume to: Daniel Sherman, President, Explore Company at resumes@explorecompany.com. Refer to CSF/ED in the subject line. No phone inquiries please.
Conservation Strategy Fund is an Equal Opportunity Employer and welcomes a diverse pool of candidates for this search.
All correspondence will remain confidential.
---
Indonesia Regional Program Coordinator
CSF's Indonesia program is currently seeking a Program Coordinator. This position reports to CSF's Indonesia Program Director and coordinates activities with a variety of CSF program staff contributing to activities in the region.
The primary function of this position is to support CSF's Indonesian Program Director in the implementation of CSF programs in Indonesia. This includes implementing CSF's training programs, backstopping research projects and performing a range of logistical and administrative functions.
Illustrative responsibilities

Support and coordinate the development of CSF's Applied Economics for Effective Marine Management and Policy Initiative and subsequent programs.


Support the recruitment of economists and professionals to contribute to training and research projects and ensure the creation of efficient teams of staff, consultants and partners.


Provide logistical and problem-solving support to ensure success of research and analysis activities.


Organize and manage CSF economic training courses and workshops.


Implement and communicate evaluation processes.


Manage the day-to-day administration of the office and provide supervision as needed for additional administrative staff.


Ensure CSF's compliance with legal requirements in Indonesia.
Qualifications
BSc in economics, natural sciences, or other field relevant to nature conservation.


At least 3 years experience in the implementation and management of relevant programmatic activities, such as conservation, research and training.


Ability to support multidisciplinary research teams in a range of functions.


Willingness to travel up to 30% of the time throughout Indonesia.


Deep interest and commitment to conservation solutions based on sound economics.


Excellent command of written and spoken English.
Application
Those interested should send a cover letter, short CV (maximum four pages, including at least two professional references), and relevant writing sample to: jobs@conservation-strategy.org.
---
CSF mission
CSF sustains natural ecosystems and human communities through strategies powered by conservation economics. Our trainings, analyses and timely expertise make development smarter, quantify the benefits of nature, and create enduring incentives for conservation.