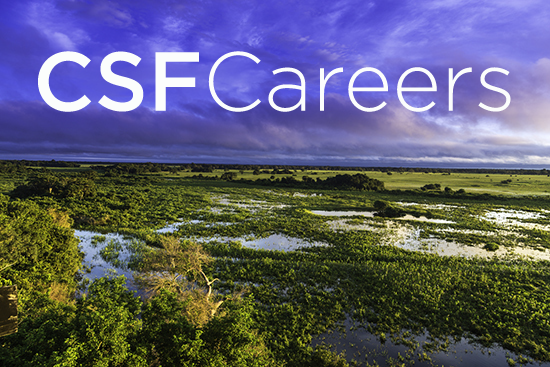 Brazil Executive Director, Rio de Janeiro, Brazil
Analista em Economia do Meio Ambiente, Rio de Janeiro, Brasil
---

CSF BRAZIL EXECUTIVE DIRECTOR
Conservation Strategy Fund (CSF) is seeking a dynamic leader to serve as Executive Director of CSF Brazil. The CSF Brazil Executive Director is responsible for overall leadership, management and oversight of countrywide trainings, fellowships, programs and analyses. The Brazil Executive Director will be responsible for the management, finance and administration of CSF Brazil's operations and in-country staff. We are seeking someone with the passion and leadership necessary to envision, develop, and implement CSF's strategic vision for Brazil while working closely with CSF's international leadership team, CSF Brazil's board of directors, and conservation leaders to grow CSF Brazil's operations and impact. The CSF Brazil Executive Director reports to CSF Brazil's board of directors but reports on a more regular basis to CSF's Global Program Director.
Responsibilities:
Organizational Leadership & Strategic Development

In alignment with CSF's global strategic plan, develop initiatives and pursue opportunities that lead to increased impact of CSF's work.

Monitor alignment of ongoing activities with strategic planning.

Make decisions on the implementation of institutional projects and programs in Brazil.

Recruit, lead, supervise, mentor and evaluate CSF Brazil's staff.

Oversee and manage CSF Brazil's finances and administration, ensuring that financial and intellectual resources are allocated appropriately.

Manage day-to-day operations of the CSF Brazil office.

Disseminate project results to ensure maximum conservation impact.

Create institutional strategies that align with CSF global and gain approval and buy-in from the CSF Brazil board, staff and partners.

Effectively collaborate with CSF staff members in other countries on programs and proposals.

Participate in CSF's Senior Management Team.
Fundraising & Relationship Management

Lead CSF Brazil's fundraising activities to expand and diversify donor base to significantly improve CSF Brazil's financial sustainability and expand CSF Brazil's portfolio of work.

Manage proposal process from the research and planning phase to submission.

Develop and maintain good working relationships with current and prospective donors.

Maintain close working relationships with the CSF Brazil Board, encouraging the best use of their knowledge and networking capabilities while keeping them up-to-date with ongoing projects and upcoming opportunities.

Develop and maintain good working relationships with partner organizations.

Prepare and submit reports to donors.

Maintain ongoing communication with CSF's Global Program Director on Brazil-based programming.

Ensure all work plans and commitments with partners and donors are implemented to a high standard and delivered on time.
Location: CSF Brazil's Headquarters in Rio de Janeiro.
Required Skills & Expertise:

Demonstrated success in fundraising for a non-profit organization, particularly with funders active in Brazil and with funders actively funding environmental programs.

At least 10 years of experience leading and managing a team.

Demonstrated ability to inspire and motivate a team.

An aptitude for organizational management, with a keen eye toward project management and meeting deadlines.

Demonstrated experience with strategic planning.

Experience in preparing and maintaining project budgets.

Knowledge and appreciation of Brazil's natural ecosystems, conservation and political history, and the role of economics in achieving conservation goals.

Good understanding and appreciation of the role and value of economics in conservation policy and planning.

University degree in economics, business administration, natural resource management, natural sciences or related disciplines. Master's or doctorate in economics or similar discipline and / or practical experience with applied conservation economics and natural resources strongly preferred.

Fluency in English and Portuguese.
Excellent communication skills, both written and verbal, including public speaking experience, and the ability to effectively represent CSF at high-level meetings and presentations.

Willingness and ability to travel frequently within Brazil as well as internationally.

Outstanding interpersonal skills and ability to collaborate and build productive relationships with diverse individuals and organizations, both at the local and national level.
Compensation: Commensurate with experience.
To-Apply: Please send cover letter and CV (both in English) to jobs@conservation-strategy.org
---


ANALISTA EM ECONOMIA DO MEIO AMBIENTE, RIO DE JANEIRO, BRASIL
A Conservação Estratégica (Conservation Strategy Fund, CSF-Brasil) está recrutando um Mestre em economia organizado, dinâmico, orientado aos resultados para apoiar a realização de projetos técnicos, em conjunto com a Diretoria. O contrato de trabalho será por prazo determinado de 6 meses, podendo ser renovado, para atuar no escritório do Rio de Janeiro.
Informações gerais:
A CSF é uma organização sem fins lucrativos que tem como missão promover a conservação e o uso sustentável dos recursos naturais por meio de abordagens econômicas para a conservação do meio ambiente. Os treinamentos, análises e conhecimentos da CSF tornam o desenvolvimento mais inteligente, quantificam os benefícios da natureza e criam incentivos duradouros para a conservação.

No Brasil, possui mais de 10 anos de experiência na elaboração de estudos técnicos sobre os valores econômicos dos ecossistemas e da biodiversidade, estratégias para a sustentabilidade financeira de áreas protegidas, instrumentos econômicos para a conservação do meio ambiente, análises custo-benefício de obras de infraestrutura e planos de negócio para atividades produtivas sustentáveis na Amazônia e Mata Atlântica, entre outros.

A CSF também conta com vasta experiência em treinamentos. Cerca de 2.000 profissionais em mais de 650 organizações de mais de 90 países participaram de seus cursos de capacitação sobre ferramentas econômicas para a conservação.

Atualmente, a CSF-Brasil busca o apoio de um Mestre em economia para realização de atividades técnicas no âmbito de seus projetos.

São responsabilidades da posição:

Planejar e desenvolver estudos técnicos nas áreas de atuação da CSF-Brasil;

Apoiar os processos de gestão de projetos e planejamento programático da CSF-Brasil;

Apoiar a concepção e elaboração de propostas para o desenvolvimento de novos projetos de conservação, assim como a busca de parceiros e financiadores para estes;

Promover processos de capacitação: organização de reuniões, seminários, oficinas, entre outros;

Assessorar tecnicamente iniciativas locais sobre avaliação e valoração econômica de serviços ecossistêmicos, e iniciativas de implantação de instrumentos econômicos de conservação do meio ambiente;

Apoiar a realização de eventos e cursos de capacitação, e participar como professor(a) nos cursos da CSF;

Representar a CSF em reuniões, workshops, seminários e outros eventos, e elaborar apresentações quando for necessário;

Apoiar o recrutamento de economistas e profissionais de outras disciplinas que poderão contribuir para o desenvolvimento de projetos;

Apoiar os processos de comunicação institucional;

Apoiar a revisão e tradução de textos;

Providenciar relatórios das atividades realizadas sob sua responsabilidade sempre que for requerido;

Apoiar a realização de tarefas internas e externas, quando for solicitado.

Perfil exigido:

Mestrado em economia ou economia ambiental (obrigatório);

Curso superior em economia, biologia ou áreas relacionadas;

Experiência profissional mínima de três anos relacionada à gestão de recursos naturais, economia do meio ambiente ou economia da conservação;

Conhecimento e experiência prática de uso de ferramentas de análise econômica. São valorizados conhecimentos específicos e experiência de uso de metodologias de valoração econômica, análise de custo-benefício, análise econômica e financeira de áreas protegidas e econometria;

Boa capacidade analítica e de escrita;

Capacidade de trabalhar com autonomia, com pouca supervisão;

Capacidade de comunicação verbal e escrita em inglês;

Capacidade de comunicação verbal e escrita em espanhol será diferencial;

Conhecimentos sobre sistemas de informação geográfica será diferencial;

Disponibilidade para viajar em áreas urbanas e rurais.

Local de Trabalho: Escritório da CSF-Brasil no Horto, Rio de Janeiro (RJ)

A CSF oferece um ambiente de trabalho colaborativo e dinâmico, com oportunidade de crescimento profissional e pessoal, além de condições laborais competitivas.

Processo seletivo:
1. Análise de currículo;

2. Entrevista;

3. Finalistas deverão nos enviar dois exemplos de trabalhos escritos.
Interessados devem enviar currículo (2 páginas no máximo, incluindo pelo menos 2 referências profissionais) para o e-mail marion@conservation-strategy.org com pretensão salarial. No campo "assunto" (subject) informar: Analista em Economia do Meio Ambiente.

Não serão analisadas as propostas recebidas sem pretensão salarial ou que não atendam aos requisitos indicados (Mestrado em economia obrigatório!).
Nuestra misión
CSF sustenta los ecosistemas y las comunidades humanas a través de estrategias de conservación impulsadas por la economía. Nuestros cursos, investigaciones y experiencia contribuyen al desarrollo inteligente, cuantifican los beneficios de la naturaleza y crean incentivos duraderos para la conservación.